National Doughnut Week 2021 with CSM Ingredients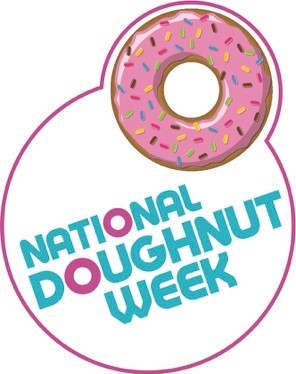 Running from 10th – 18th July, this year marks the 30th anniversary of the National Doughnut Week which encourages bakers and cafes to sign up to the activity in order to raise lots of *dough* for a worthy cause.
To get involved in the fun and help raise lots of money for charity at the same time, businesses can register below to receive a branded POS kit.  All money raised will go to The Children's Trust, the UK's leading charity for children with brain injury.
Since launching in 1992, National Doughnut Week has raised a total of £984,256 for charitable causes, including £469,049.79 for The Children's Trust.
For inspiration and encouragement here are a couple of the top doughnut trends that will be popular this July.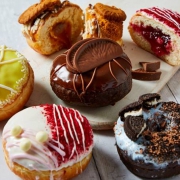 Oozing with Flavour – The classic glazed ring doughnut continues to be a popular treat for many, and today's doughnut-lovers are after a step up to something a little more indulgent.  Not only do they want a sweet topping to doughnuts, they also we want filled doughnuts filled.  From Lotus Biscoff Loaded Doughnuts with a Toffee Sauce injection, to Chocolate Orange Doughnuts with a Chocolate Crembel filling, topped with Chocolate Orange Pieces, the possibilities when it comes to filled doughnuts are endless.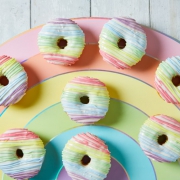 Shine Bright like a Doughnut – Rainbow colours will be big for this year and will range from bright rainbow shades to more muted pastels.  The rainbow theme has been huge for the last 15 months in recognition of the NHS, and so this will be reflected in the first National Doughnut Week since the pandemic began.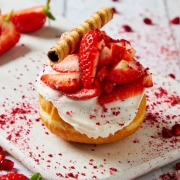 Get Your Five a Day – Fully loaded fruit doughnuts not only look, and taste delicious, they also add a touch of 'guilt free' indulgence as the fruit feels somewhat healthier than a chocolate or icing topping.  Summer berries are a fresh and light way to enjoy a dessert in the warmer months, so will be making an appearance as a healthier doughnut topping this July.
Registration for this year's National Doughnut Week is now available at http://www.nationaldoughnutweek.org/
https://www.finlayfoods.com/wp-content/uploads/2021/06/NDW-Logo.jpg
374
296
Finlay Foods
https://www.finlayfoods.com/wp-content/uploads/2019/04/Finlay-Foods-Logo-160px-trans-2-300x130.png
Finlay Foods
2021-06-25 11:09:28
2021-07-22 10:36:34
National Doughnut Week 2021 with CSM Ingredients